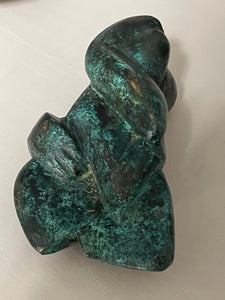 The legend of the Selkie is told along the Western coast of Scotland and as far down as Ireland. Selkies are seals in the water, but once on land, they take off their skins and become human. If an ordinary mortal sees a Selkie in human form, they will inevitably fall in love. The Selkie legend has several variations/. The husband or wife of a Selkie may hide away their seal skins, but once their hiding place is discovered the Selkie is powerless to resist the call of the sea. He or she slides back into his skins and departs, leaving behind any children who may have webbed feet.
I ran a joint carving course with some African carvers from Zimbabwe. They used predominantly brick hammers to carve with instead of chisels. I walked around teaching with a small piece of stone and a brick hammer this is the result. Myth and legend always hover under the surface with me.
Bronze
Dimensions : L 16 x 10cm 
Please note the two prices - 
If you are visiting the gallery or using click & collect chose - 'Gallery Price'
For UK delivery please chose  - 'UK with postage'
For other destinations please contact the gallery to discuss shipping costs.