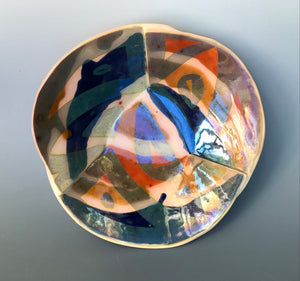 This range of abstract designs emphasises the beautiful and interesting effects that can be achieved under the right conditions combining coloured glazes with lustres. The correct initial placing of the colours is vital to the final success of the piece. One of the delights of lustre is that the design can change in many pleasing ways when the light changes. The crackled glaze of some of the lustres enhance the overall effect.
This range of work is created by cutting existing clay forms and re-assembling them into interesting asymmetrical shapes.
Approx Dimensions : 20 cm x 19 cm
Please note the two prices - 
If you are visiting the gallery or using click & collect chose - 'Gallery Price'
For UK delivery please chose  - 'UK with postage'
For other destinations please contact the gallery to discuss shipping costs.