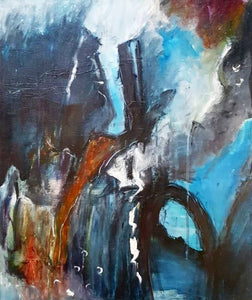 This painting is based on the idea of light and darkness and the concept of the tree of life. Exploring working with nature to survive over trauma, sadness and life experiences. The cycle of life - rebirth in the form of reincarnation or a new life in the spirit world. Celebrating everyone's beautiful uniqueness - Thin place.
Dimensions : Unframed : 50 cm x 40 cm
Media : Acrylic on canvas.
Please note the two prices - 
If you are visiting the gallery or using click & collect chose - 'Gallery Price'
For UK delivery please chose  - 'UK with postage'
For other destinations please contact the gallery to discuss shipping costs.