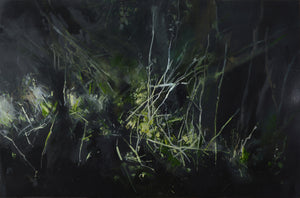 Study. Simplify. Repeat.

Paint through the subject and out the other side.

Car headlights on scrub land where I learned to drive.
Mixed media on board
Dimensions : 82cm x 126cm
Framed : 45 x 35.5cm 
This piece is offered framed
Please note the two prices - 
If you are visiting the gallery or using click & collect chose - 'Gallery Price'
As this is a large piece a special courier would be need to be arranged, please contact gallery before purchasing to discuss prices.
For other destinations please contact the gallery to discuss shipping costs.