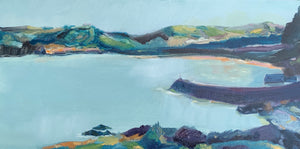 This is a painting is a response to my environment and to the coastal areas of West Wales and to the safety of harbours. 
The work developed from plein air painting studies out in the sunshine and stillness of late winter and early spring. It is a response to the coming awakening of the spring, sunlight and shadows of the day.   
The oil painting is offered unframed so as to enjoy the painted deep edges of the canvas.   
Dimensions 30 x 60 cms.  
Hanging is by chord 
Please note the two prices, if you are visiting the gallery or using click & collect chose the 'Gallery Price' for UK delivery please chose  'With UK postage'
Note : Postage is estimated, if postage and packaging is over by more than 10% the balance will be refunded.