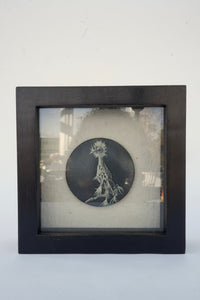 EX is the IUCN acronym for extinction on the red list of threatened species. This piece is born of floral detritus to become folk lore, disconnected fragments of memory passed down from generation to generation as the natural world changes and is lost. 
Enamel on copper, wooden box frame.

Photo: Shaun Gwizdak
Dimensions: Box frame – 16 cm x 16 cm x 4 cm.  Plaque 7.5 cm

Please note the two prices - 

If you are visiting the gallery or using click & collect chose - 'Gallery Price'
For UK delivery please chose  - 'UK with postage'
For other destinations please contact the gallery to discuss shipping costs.