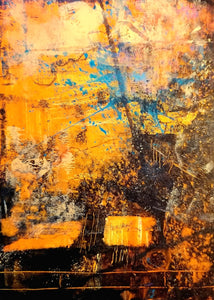 A collection of small tablet sized paintings. Little jewels of Welsh land and seascapes. A reflection of the topography of the area of Borth. My intention is to create a sense of quiet, restful solitude with these pieces, reflecting a quiet resilience of the terrain and the people of this place - Lle ar lan y Mor (Place by the Sea).

Acrylic and mixed media 
Artwork dimensions : 18 x 13cm
Please note the two prices - 
If you are visiting the gallery or using click & collect chose - 'Gallery Price'
For UK delivery please chose  - 'UK with postage'
For other destinations please contact the gallery to discuss shipping costs.