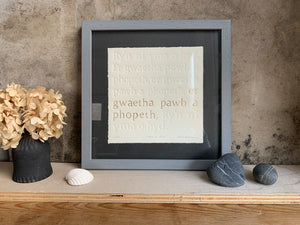 Laser-cut embossing finished with 24ct gold printed on white Somerset paper.
Dimensions unframed 28x28cm
Limited edition of 50
The familiar chorus of Dafydd Iwan's 'yma o hyd' with 'er gwaetha pawb a phopeth highlighted in gold its the line that always roused me the most.
Please note the various prices - for framed and unframed pieces 
If you are visiting the gallery or using click & collect choose - 'Gallery Price'
For UK delivery please choose  - 'UK with postage'
For other destinations please contact the gallery to discuss shipping costs.