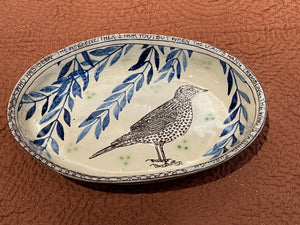 'Who has seen the wind?
Neither I nor you: 

When the leaves hang trembling,
Wind is passing through,
Who has seen the wind?
Neither you nor I:
But when the trees bow down their heads, 
The wind is passing by' 
Inspired by Christina Rossetti
Earthenware slab decorative small oval platter with slip, sgraffito and oxides.
Transparent, food safe glaze fired to 1120 degrees.
Suitable for oven, dishwasher and microwave. 
Dimensions : 23.5cm x 13cm x 3.5cm
Please note the two prices If you are visiting the gallery or using click & collect choose - 'Gallery Price'
For UK delivery please chose  - 'UK with postage'
For other destinations please contact the gallery to discuss shipping costs.