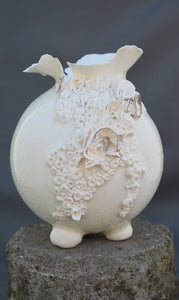 White , transparent glaze, sprigged porcelain vase, some gold lustre, with three button feet.
Size: approx., 8.5cm x 10cm tall.
Please note the two prices - 
If you are visiting the gallery or using click & collect chose - 'Gallery Price'
For UK delivery please chose  - 'UK with postage'
For other destinations please contact the gallery to discuss shipping costs.