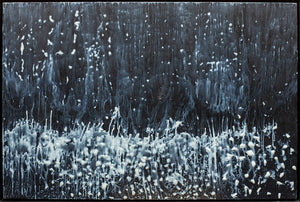 Taking inspiration from the process of applying surfwax to a surfboard to provide traction, he uses surfwax to draw and 'paint', in similar ways one would use more traditional painting mediums. Cook starts with a painted black wooden support, which, he covers in surfwax. When the wax bar is repeatedly rubbed onto the surface, it forms a mass of hard tactile lumps and bumps. The work at this stage could be viewed as a photographic emulsion plate ready to be exposed; in this case, not to light, but to hot temperatures from a heat gun. The wax is melted and then manipulated by Cook into drips if the support is vertical, and pools if placed horizontal, referencing 'process painting' techniques. The wax bar can be used to draw directly onto the work, or by using implements when it is soft, can be drawn into Sgraffito fashion. It can be scraped back, layered, or torn up into pieces and applied like Plasticine.
The creative process is very physical, and one could draw a parallel with this, and the energy and movements of natural elements referred to by the final images. They seem to describe water, weather systems, wave or cloud formations, movement or the passage of time. The monochrome aesthetic of the work chimes with the current vogue for black and white contemporary surf films and photography, but the incredible tactility and painterly nature of the works in the flesh, primarily reassert Cook's passion for experimental painting.
Please note the two prices - 
If you are visiting the gallery or using click & collect chose - 'Gallery Price'
For UK delivery please chose  - 'UK with postage'
For other destinations please contact the gallery to discuss shipping costs.