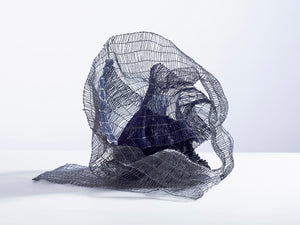 These pieces are from the extensive colour studies that informed Imogens sculptures.
Each one is hand-painted and therefore totally unique with layers of ink building up a density that communicates the deep void of cold winter lake waters.
Dimensions : 210mm x 300mm on Norfolk Paper.
Each one is individually numbered.
This piece is offered unframed although bespoke framing can be arranged on discussion with the artist.
Please do note colours will vary due to different screen resolutions.
Please note the two prices - 
If you are visiting the gallery or using click & collect chose - 'Gallery Price'
For UK delivery please chose  - 'UK with postage'
For other destinations please contact the gallery to discuss shipping costs.