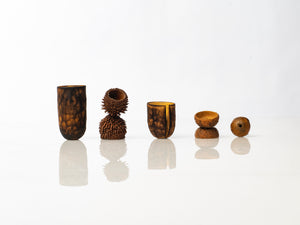 This collective piece combines carved rosewood vessels with natural containers, acorn cupules and the marble gall, the vessel for the gall wasp andricus kollari. 
Wood, natural materials.
Dimensions of board: L23 cm x W8 cm x H3.5cm 
Please note the two prices - 
If you are visiting the gallery or using click & collect chose - 'Gallery Price'
For UK delivery please chose  - 'UK with postage'
For other destinations please contact the gallery to discuss shipping costs.