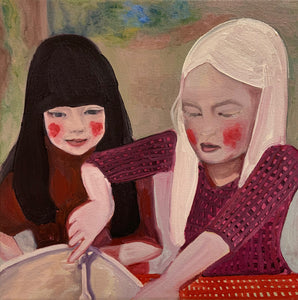 A child is mixing something in a bowl - maybe they are baking a cake, or maybe they are playing, near a window that is looking out onto an impressionist-inspired back garden. The one child waits patiently whilst the other child takes her turn stirring with the uttermost concentration. The child waiting looks as though they are very nearly running out of patience. Patience is a virtue!
Oil on Canvas (2021)
Dimensions : 30 x 30 x 2cm
This painting is offered unframed with black painted edges and is ready to hang. The canvas is 2cm deep. 
Please note the two prices - 
If you are visiting the gallery or using click & collect chose - 'Gallery Price'
For UK delivery please chose  - 'UK with postage'
For other destinations please contact the gallery to discuss shipping costs.