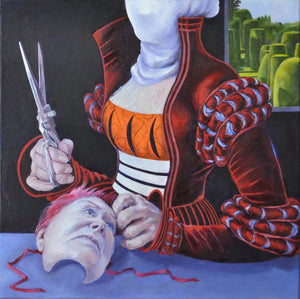 Referencing 'Judith Victorious' by Lucas Cranach the elder circa 1530. Playing with my concerns about identity and existence.
Date: 2020
Dimensions: H 55 cms x W 55 cms
Media: Oil on canvas
This work is offered framed, the frame is painted wood and ready to hang.
Please note the two prices - 
If you are visiting the gallery or using click & collect chose - 'Gallery Price'
For UK delivery please chose  - 'UK with postage'
For other destinations please contact the gallery to discuss shipping costs.