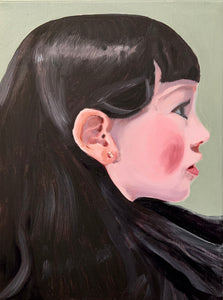 My work deals with various themes pertaining to childhood, be it from my own experience of childhood and parenthood, or general observations of my own two children.

Oil on Linen

Dimensions : 30 x 40 x 2cm
This painting is offered unframed with black painted edges and is ready to hang. The canvas is 2cm deep. 
Please note the two prices - 
If you are visiting the gallery or using click & collect chose - 'Gallery Price'
For UK delivery please chose  - 'UK with postage'
For other destinations please contact the gallery to discuss shipping costs.