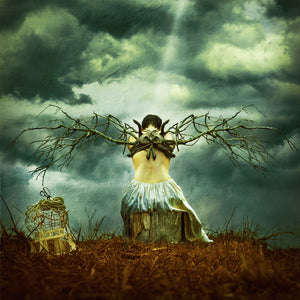 The world still sleeps as I awaken before my worries begin.
I sit here on this broad bleak hill wondering what gift I might give myself before the sun sets on me again...
...for a gift I must have,
in case tomorrow never comes.
I sit and listen listen to the skylark.
I watch her dip in and out of the tall grass thirsting for life
I wish I had.
I sit.
I watch.
And now I know.
I know I must learn to disbelieve my thoughts
for freedom is as simple as that.
'Seeking the lightness of freedom', February 2021, self-portrait
Each image is a limited edition of 5, numbered and sold with a Certificate of Authenticity signed by the artist.
Unframed sizes : choose from - 14", 23", 40"  
Each print is square and is printed with archival pigment on Photo Rag Ultra Smooth paper, 305gsm.
Please note the three prices for unframed work includes postage, pieces will be delivered within 2 weeks.
Framed pieces will be show at the gallery and will be for sale.
If you require a framed piece in another size please contact the gallery 
If you are visiting the gallery or using click & collect chose the 'Gallery Price' for UK delivery please chose  'With UK postage'