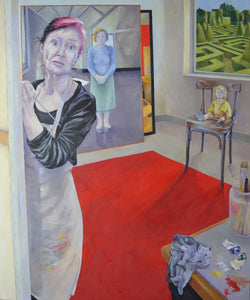 I was regularly reminded throughout childhood that I was an accidental conception. The idea that I should not exist has been a profoundly influencing aspect of my experience of self. This painting references several previous forays into questioning my existence and my pervasive sense of an empty centre.
Date : 2021
Dimensions : H 124 cms x W 104 cms
Media: Oil on canvas
This work is offered framed, the frame is painted wood and ready to hang.
Please note the two prices - 
If you are visiting the gallery or using click & collect chose - 'Gallery Price'
For UK delivery please chose  - 'UK with postage'
For other destinations please contact the gallery to discuss shipping costs.