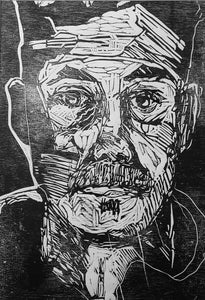 A woodcut. The image was drawn straight onto the woodblock from life.
This is the only print in existence , the block was damaged preventing further impressions.
Medium Woodcut
Unframed Dimensions 45cm x 31 cm
Framed Dimensions : 62cm x 48cm 
Frame : Black with white mount
Black composite with white solid core mount
Please note the two price options below- 
If you are visiting the gallery or using click & collect chose - 'Gallery Price'
For UK delivery please chose  - 'UK with postage'
For other destinations please contact the gallery to discuss shipping costs.