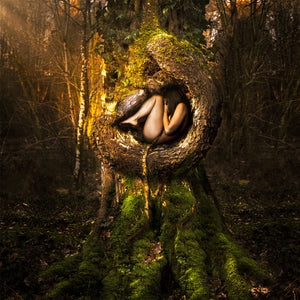 This self-portrait highlights our connection to nature and speaks of endurance. The tree and her embryo tell us how us how there is potential in us; the self can come into its own, centred and self-renewed. The tree provides us nourishment even from the bare, dead earth: we too are able to overcome the worst of times regenerated and strong.
Each image is a limited edition of 5, numbered and sold with a Certificate of Authenticity signed by the artist.
Unframed sizes : choose from - 14", 23", 40"  
Each print is square and is printed with archival pigment on Photo Rag Ultra Smooth paper, 305gsm.
Please note the three prices for unframed work included postage pieces will be delivered within 2 weeks.
Framed pieces will be show at the gallery and will be for sale.
If you require a framed piece in another size please contact the gallery 
if you are visiting the gallery or using click & collect chose the 'Gallery Price' for UK delivery please chose  'With UK postage'