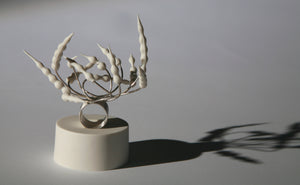 A silver multi stemmed delicate ring, with cast porcelain seedpods inspired by the wind-blown forms of the charlock bush. 
This is a display piece, not recommended to be worn.
Silver and porcelain set on a porcelain plinth within a glass dome. 
Photo: Colin Evans 
Dimensions in total: Ring 9 cm x 9 cm total in dome 27 cm x 14 cm
Please note the two prices - 
If you are visiting the gallery or using click & collect chose - 'Gallery Price'
For UK delivery please chose  - 'UK with postage'
For other destinations please contact the gallery to discuss shipping costs.