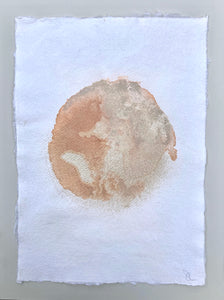 The artwork is about the process of making ink; the sieving, heating, mixing, then the meditative tactility of applying ink to the paper surface. I'm drawn to the alchemy and materiality of the conclusion, which evokes the influence of the earthy textures found on the surface of the earth and the moon, on both a macro and micro scale.
Medium: Madder root ink and wood ash on khadi cotton rag deckle edged paper 
Dimensions: 37cm x 28cm (framed dimensions) Work is Framed 
Please note the two prices, if you are visiting the gallery or using click & collect chose the 'Gallery Price' for UK delivery please chose  'With UK postage'
Note : Postage is estimated, if postage and packaging is over by more than 10% the balance will be refunded.