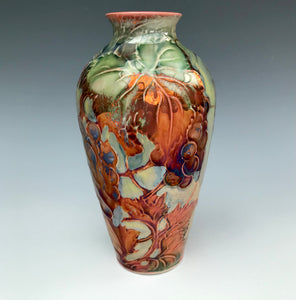 Tubelined with a fine outline of slip, painted with underglaze colours and decorated with metallic lustres. This vase is then fired in a special reduction firing which reveals the lustrous effects.
Approx dimensions : 16 cm x4.5 cm (base)
Please note the two prices - 
If you are visiting the gallery or using click & collect chose - 'Gallery Price'
For UK delivery please chose  - 'UK with postage'
For other destinations please contact the gallery to discuss shipping costs.