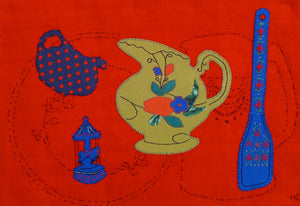 This work is about some of my favorite objects that I have kept over the years.  The faint stitching into the red welsh wool is a nod to the past, fading like our ever changing history.
Mixed Media 
Image dimensions : 29 x 41cm
Framed dimensions 34 x 46cm 

Please note the two prices - 
If you are visiting the gallery or using click & collect chose - 'Gallery Price'
For UK delivery please chose  - 'UK with postage'
For other destinations please contact the gallery to discuss shipping costs.