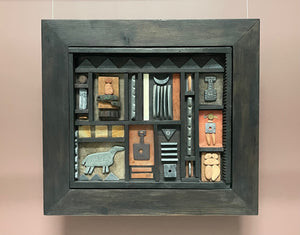 Wall Hung Relief 
This is part of my" Out Of The Dragon" series which is all about my feelings of heireith and belonging to this unique country with its stunning beaches, majestic mountains prehistoric monuments and wonderful history. I am also a songwriter and have written songs about Wales.

Dimensions : Framed 55 x50cm 
Please note the two prices - 
If you are visiting the gallery or using click & collect chose - 'Gallery Price'
For UK delivery please chose  - 'UK with postage'
For other destinations please contact the gallery to discuss shipping costs.