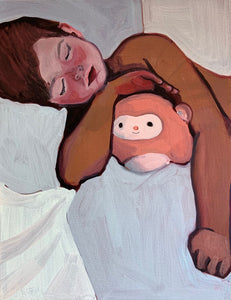 The artist has an ongoing fascination with the way faces (her children's in particular!) change when they are asleep and how the muscles relax. 
Oil on Canvas : 2021

Dimensions : 45 x 35cm
This piece is offered unframed  
This painting is offered unframed with black painted edges and is ready to hang. The canvas is 3.5cm deep. 

If you are visiting the gallery or using click & collect chose - 'Gallery Price'
For UK delivery please chose  - 'UK with postage'
For other destinations please contact the gallery to discuss shipping costs.