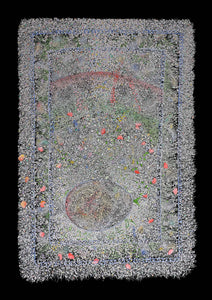 ' I saw the rings around Saturn, 
Shocked I stand on the edge of silence,
A big breath before the jump,
Hopefully it'll be alright' 
The prints are made by laying the cuts onto black velvet which absorbs any shadows made by the narrow strands of paper. They are then photographed with a large format digital camera producing extremely high resolution images. Fine art 'giclée' prints. Are then made in a process that utilises fully archival paper and inks and also faithfully reproduces the very fine detail of the original cuts

 Print Edition 6/250
This piece is offered framed. 
Frame is oak with museum quality glass. 
Framed dimensions 39.5cm x 52cm
Please note the two prices, if you are visiting the gallery or using click & collect chose the 'Gallery Price' for UK delivery please chose  'With UK postage'