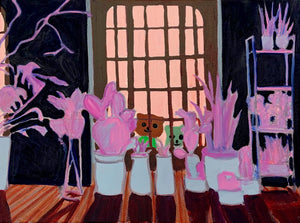 Inspired by the Japanese child who was lost in a bear infested forest for six days, the title of this painting refers to the first words he said after being found. They are also the words the artist said to her mother a lot as a child…..

Oil on Canvas 

Dimensions : 40 x 30cm
This painting is offered unframed with black painted edges and is ready to hang. The canvas is 2cm deep. 
Please note the two prices - 
If you are visiting the gallery or using click & collect chose - 'Gallery Price'
For UK delivery please chose  - 'UK with postage'
For other destinations please contact the gallery to discuss shipping costs.