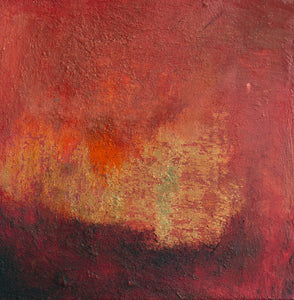 Inspired by the beautiful late light on the mountain across from us. I often look at this light, as the sunlight has faded from our garden, and the mountain still basks in warm red tones.
Oil, gold leaf, oil stick, pastel and wax on deep edge cradled panel
Dimensions : 
16 x 16 x 2 cm
Painted on deep edge canvas, edges painted black to compliment the painting, the painting comes ready to hang
Please note the two prices, if you are visiting the gallery or using click & collect chose the 'Gallery Price' for UK delivery please chose  'With UK Postage'
Note : Postage is estimated, if postage is more than 10% less the estimate the balance will be refunded.