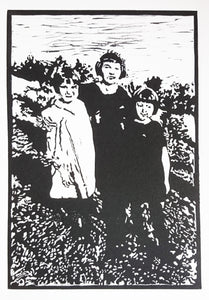 Based on black and white photographs in an old family album.
I enjoy the strong contrast of pure black and white when used in a single cut lino print. It helps me to simplify the image thus creating a strong impact. This is especially helpful when my source material is old black and white photographs.  
Lino Cut Print 
Dimensions framed    : 39n x 48cm
This work is offered framed, the frame is painted wood and ready to hang.
Please note the two prices - 
If you are visiting the gallery or using click & collect chose - 'Gallery Price'
For UK delivery please chose  - 'UK with postage'
For other destinations please contact the gallery to discuss shipping costs.