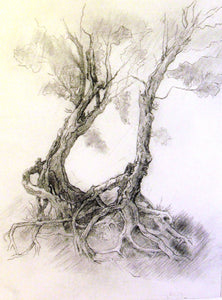 I remember this gnarled hawthorn on the side of an old farm track. The fences long since broken, sheep had gradually worn away the earth bank leaving its roots clinging to each other as if in some strangled embrace.
Drypoint on Fabriano Rosapina paper
This is a limited edition print: 4/6
Image size: 12cm x 22cm
This print is offered mounted and framed. Frame size: 32cm x 40cm
Please note the two prices - 
If you are visiting the gallery or using click & collect chose - 'Gallery Price'
For UK delivery please chose  - 'UK with postage'
For other destinations please contact the gallery to discuss shipping costs.