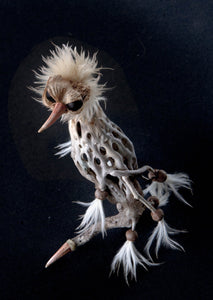 EX is the IUCN acronym for extinction on the red list of threatened species. This piece is born of floral detritus to become folk lore. Disconnected fragments of memory passed down from generation to generation as the natural world changes and is lost. 
Flora detritus, crab claws, taxidermy case.
Photo: John Beynon
Dimensions: Taxidermy case H 26 cm x L 27.5 x D 16 cm
This work is not for sale but the image has been used in related pieces. 
For more information contact the gallery.