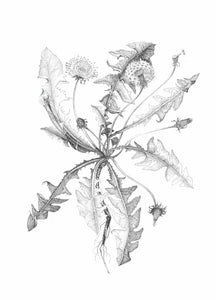 Dandelion/Dant y llew, walk #25 - May 2020
Pen and ink on paper
Dimensions, 540x435mm (framed) and 420x297mm (unframed)
Black stained, wooden frame with card mount
A wonder filled ally which lights up the ground we walk on.
Each Dandelion plant embodies the passage of time, from the flowers which open and close daily to the airborne seed heads, used by children to conjure the hour. They hold the celestial bodies of the Sun and the Moon, the intense golden yellow of the flower and the lunar glow of the ephemeral seedhead. Joyous Dandelion brightens lawns, lanes, roundabouts and fields. Their value has been prized by medical herbalists from Arabic physicians of the 10th and 11th century, via the welsh Physicians of Myddfai of the 13th to 18th centuries, through to the present day. There are thought to be over 250 species in the Dandelion group in the British Isles alone, all of which are safe medicinal plants. It is a world traveller, believed to have originated in Asia, and a common wild flower some (not me) may say a weed. It can be found almost everywhere humans live. Pay attention. It is a wonder filled ally which lights up the ground we must gently walk on.
Please note the two prices - 
If you are visiting the gallery or using click & collect chose - 'Gallery Price'
For UK delivery please chose  - 'UK with postage'
For other destinations please contact the gallery to discuss shipping costs.