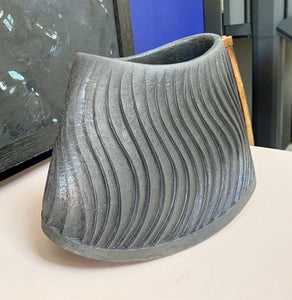 A curved vessel with an undulating rim, carved design fading to top edge.  Post Raku smoke fired.

Dimensions : H 21cm : W 25cm : D 13.5cm
Please note the two prices, if you are visiting the gallery or using click & collect chose the 'Gallery Price' for UK delivery please chose  'With UK with postage'
Note : Postage is estimated, if postage is more than 10% less the estimate the balance will be refunded.