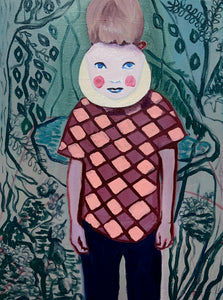 This painting depicts a lone child wearing a mask with a pensive look. Are they alone in a forest or are they standing in front of patterned wallpaper?
This work was inspired by the way in which children love dressing up in costumes and masks and how they take on different personas when they are in costume.
Oil on Canvas

Dimensions : 40 x 30 x 2cm
This painting is offered unframed with black painted edges and is ready to hang. The canvas is 2cm deep. 
Please note the two prices - 
If you are visiting the gallery or using click & collect chose - 'Gallery Price'
For UK delivery please chose  - 'UK with postage'
For other destinations please contact the gallery to discuss shipping costs.