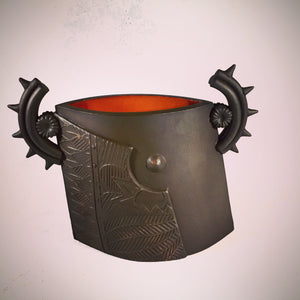 Slab built textured terracotta vessel with terra sigillata.
With a clear glaze interior protecting the original terracotta colour of the clay.

Dimensions : H 12cm : W 10cm
Please note the two prices - 
If you are visiting the gallery or using click & collect chose - 'Gallery Price'
For UK delivery please chose  - 'UK with postage'
For other destinations please contact the gallery to discuss shipping costs.