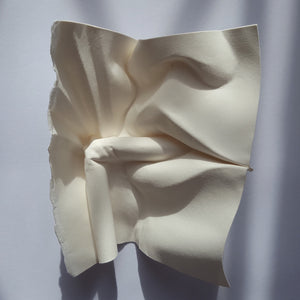 Portrait with straw. As this sculpture is created purely by folding, having something in the mouth allows for more definition and depth to the lips.
Wet-folded from a sheet of watercolour paper.
Each piece is unique
Arches Watercolour Paper 300gsm

Dimensions : 9 x 11 x 4.5 cm 
The paper sculpture is shipped in it's own cardboard packing box. The sculpture floats delicately on a bed of tissue paper to support and keep it from touching the sides.
Price includes standard shipping, please select UK, EU or US.