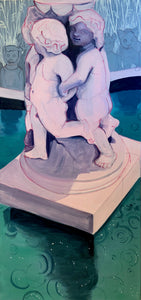 The artist's most prominent childhood memories of childhood are those collected on family holidays and days out. She has been merging these memories with her own experience of being a mother.
Oil on Canvas : 2020

Dimensions : 135x 66cm
This painting is offered framed in a black tray frame and is ready to hang. The canvas is 3.5cm deep. 

Please note the two prices - 
If you are visiting the gallery or using click & collect chose - 'Gallery Price'
For UK delivery please chose  - 'UK with postage'- Due to the size of this pice a specialist courier will be organised for delivery.
For other destinations please contact the gallery to discuss shipping costs.