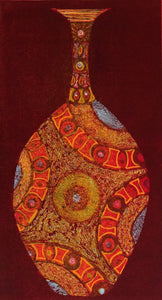 A large three colour monotype from the Vessel series. This technique fascinates me , it enables gradual tonal contrasts and the modelling of the pots to create a subtle chiaroscuro effect.
Drypoint and monotype on Fabriano paper.
Dimensions unframed : 40 X 22cms
Dimensions unframed : 58 X 39cms
This artwork is offered framed
Please note the two prices - 
If you are visiting the gallery or using click & collect chose - 'Gallery Price'
For UK delivery please chose  - 'UK with postage'
For other destinations please contact the gallery to discuss shipping costs.