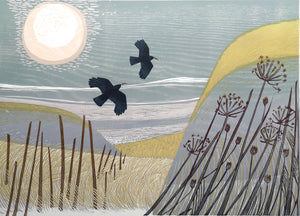 Memories of late summer on the Ceredigion coastal path. Birds often feature in my work as I feel they are as much a part of the landscape as the trees and plants that grow there. When I am sketching I also make a note of what I can hear around me and the memory of these birdcalls help to transport me back to a particular place. Choughs have such a distinctive call and I often catch a glimpse of them diving and swooping amongst the scree and dried grasses on the coast path.
Medium: Original limited Edition Wood and Linocut with chine colle
Hand Printed on 300gsm White somerset paper 

Image size: H33cm x W46cm

Framed size: H52.5cm x W65cm
Limited edition of 25
Framed in Oak (Float mounted)  (4-6week lead time)
Please note the various prices - 
If you are visiting the gallery or using click & collect choose - 'Gallery Price'
For UK delivery please choose  - 'UK with postage'
For other destinations please contact the gallery to discuss shipping costs.