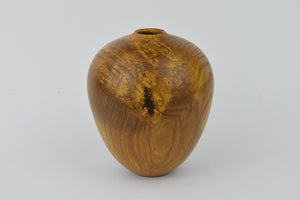 Burr figure in laburnum is extremely unusual. It has a deep golden colour with a depth that draws you in. It's recommended to keep out of direct sunlight as the wood will darken with UV exposure. The thin, even walls makes it a delicate joy to hold and look at.

Dimensions : Height 11.5cm : Diameter 9.5cm :Opening diameter 2.1cm

Please note the two prices - 
If you are visiting the gallery or using click & collect choose - 'Gallery Price'
For UK delivery please choose  - 'UK with postage'
For other destinations please contact the gallery to discuss shipping costs.