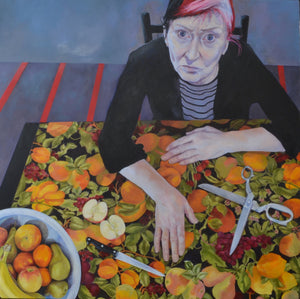 Evoked by Pete Townsend's song filtered through personal experience. The representation of the real fruit on the flatly stylised table cloth speaks to the distortion of reality and the knife and scissors speak for themselves!
Date: 2021
Dimensions: H 94 cms x W 94 cms
Media: Oil on canvas
This work is offered framed, the frame is painted wood and ready to hang.
Please note the two prices - 
If you are visiting the gallery or using click & collect chose - 'Gallery Price'
For UK delivery please chose  - 'UK with postage'
For other destinations please contact the gallery to discuss shipping costs.