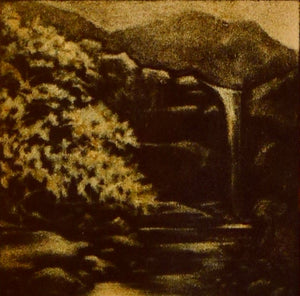 Sometimes you find a timeless, tranquil place where it seems no-one else has been before.Inspired by a chance pattern of oxidisation on a heavily etched copper plate, this imaginary landscape might be such a place.
2 colour faux mezzo etching on Rosapina Fabriano paper
This is a limited edition print 2/6
Image size 10cm x 10cm
This print is offered mounted and framed. Frame size: 30.5cm x 31cm
Please note the two prices - 
If you are visiting the gallery or using click & collect chose - 'Gallery Price'
For UK delivery please chose  - 'UK with postage'
For other destinations please contact the gallery to discuss shipping costs.