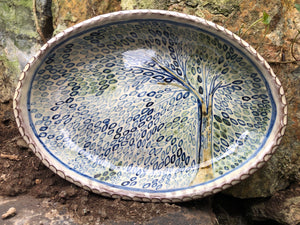 Red earthenware hump mould formed  with slip and hand painted oxides. 

Transparent, food safe glaze fired to 1120 degrees.
Suitable for oven, dishwasher and microwave. 
Dimensions : 26 x 18.5 x 4cm
Please note the two prices - 
If you are visiting the gallery or using click & collect choose - 'Gallery Price'
For UK delivery please chose  - 'UK with postage'
For other destinations please contact the gallery to discuss shipping costs.