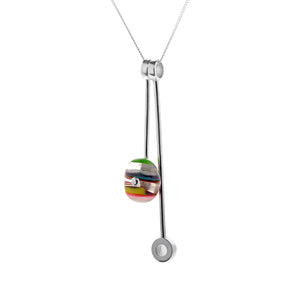 Organic hand carved Surfite pebbles sit alongside an elegant paddle inspired charm. 
One necklace features a shorter padlle and a longer pebble charm and then other the opposite way round.
.
As with all precious metal jewellery, please avoid wearing it in water or spraying perfumes, and sunscreen onto it as they will tarnish quickly. You can clean the piece with soapy water and a soft brush if needed but dry immediately after. A soft polishing cloth can also be used on both the Surfite and metal. Keep you piece safely in its box to help reduce tarnishing and scratching the resin when it is not being worn.
.
Bubbles and inclusions are all natural parts of Surfite. I work with two different types. 'Traditional' which is the striped layers and builds up over time in the drip trays as boards are glassed. Whilst the swirled resin is waste leftover from board repairs which has the remaining resin swirled together to create the coloured patterns.
.
Please note the two prices -  
If you are visiting the gallery or using click & collect chose - 'Gallery Price'
For UK delivery please chose  - 'UK with postage'
For other destinations please contact the gallery to discuss shipping costs.