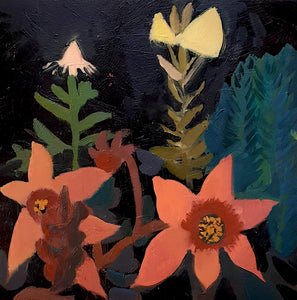 The evening star does shine,
   The birds are silent in their nest, 
 And I must seek for mine.
    The moon, like a flower, 
     In heaven's high bower,
 With silent delight
                                         Sits and smiles at the night.           William Blake  
Oil on cradled board 
Dimensions framed : 25 x 25cm
Please note the two prices - 
If you are visiting the gallery or using click & collect chose - 'Gallery Price'
For UK delivery please chose  - 'UK with postage'
For other destinations please contact the gallery to discuss shipping costs.