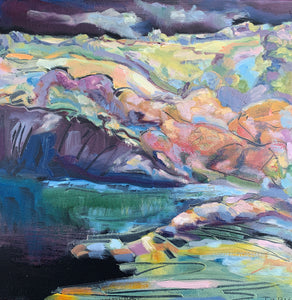 This painting is a response to my coastal experiences of Wales. The light over the              headland is ever changing and continues to fascinate me as does the incrediblecolours that are illuminated in different light on both the land and the sea.  
The oil painting is offered unframed so as to enjoy the painted deep edges of the canvas.  
Dimensions : 30 x 30 cms.  
Hanging is by chord 
Please note the two prices, if you are visiting the gallery or using click & collect chose the 'Gallery Price' for UK delivery please chose  'With UK postage'
Note : Postage is estimated, if postage and packaging is over by more than 10% the balance will be refunded.